2022.03.01
Tokyu Housing Lease Corporation and Enplus Inc. Business Alliance Announcement~Brand New Housing Rental Contract Scheme for Foreigners~
Tokyu Housing Lease Corporation (Headquartered in Shinjuku-ku, Tokyo; Katsushi Miki, President and Representative Director President and Executive Officer; hereinafter "Tokyu Housing Lease") and Enplus Inc. (a subsidiary of Ricoh Leasing; headquartered in Chuo-ku, Tokyo; Kana Kumoshita, CEO; hereinafter "Enplus") entered into a business collaboration agreement on February 28, 2022 to introduce a new housing rental contract scheme specifically tailored to foreigners.

Tokyu Housing Lease is the leading property management company of over 115,000 properties focusing mainly in the Tokyo metropolitan area. The company has been offering proposals to property owners for the betterment of asset value and services to enrich the residents' property stay. Enplus, with the company Vision of "More Value、Less Barrier", has experience in providing global relocation services for both inbound and outbound from over 8,000 corporate clients.

This brand-new housing rental contract scheme conceived through the collaboration of the two companies, will provide convenience to the foreign lessee by first Tokyu Housing Lease leasing their managing properties to Enplus and Enplus adding housing related services specialized for foreigners to sublease the property.


<Alliance Scheme​>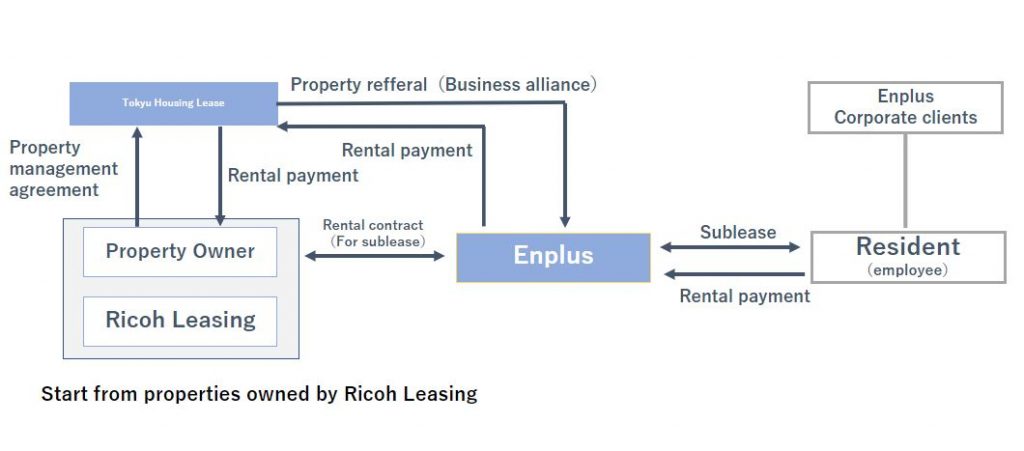 The spreading of Covid-19 especially with the Omicron variant is still ongoing globally, this new business collaboration was brought up to look ahead to the future inbound market of the post-Covid-19 era.

As the first step, contracts for properties owned by Ricoh Leasing the parent company of Enplus and managed by Tokyu Housing Lease, and properties leased by Tokyu Housing Lease will be offered using this new scheme. The scheme is planned to expand in other managing properties of Tokyu Housing Lease.

Both companies will cooperate to aspire better services within property management business fields.
All News
Contact
If you have any questions or inquiries regarding the service,
please feel free to contact us using the contact form.
Contact Us